English
On May of 2000, in Thessaloniki, in co-operation with the municipality of Pylea and GAWF (Greek Animals Welfare Fund), we established the non-profit organization "Stray Animals Care-Love". Its purpose was to make our individual efforts more organized and effective. According to the official policy of the organization, our basic aims are to protect, help and take care of stray animals.
To make these happen, we try to
• re-home some of the animals we host at our shelter
• control births by neutering of stray animals
• and, in co-operation with the Greek authorities, protect animals from being abused, indicating and suing actions of maltreatment, and offering law protection where it is needed.

Until today we have managed
• To re-home several dogs and cats, always checking the quality of their new lives.
• With the contribution of the Municipality of Pylea, to neuter a big number of cats and dogs, in order to control births.
• We constantly try to make people aware that neutering (and not poisoning) of strays is the only solution in order to control their population.
• With the contribution of students from the Veterinary Department, from the Aristotle University of Thessaloniki, we inform pupils and teachers of elementary schools about our responsibilities toward stray animals.
• We take place in protests against circuses with animals.
• We support individuals who offer their love to strays, so they will keep on their effort.
• The clinics of veterinary university of Thessaloniki, appreciating our work, are contributing with their scientific help and support.
Problems our shelter faces.
• We have temporally been given a place, but in the future we have to find our permanent own place to keep on helping animals that need our assistance.
• There is no permanent staff/ personnel.
Until now the whole effort is based upon volunteering assistance.
• There are no vehicles.
Vehicles are essential to gather wounded animals and to transfer them to the vets.
We would like to thank all people who assist and enhance our efforts. We firmly believe in volunteering work and any other kind of contribution, so that in the future we can achieve better and bigger results.
Read about our Virtual Adoption Program here
Angelos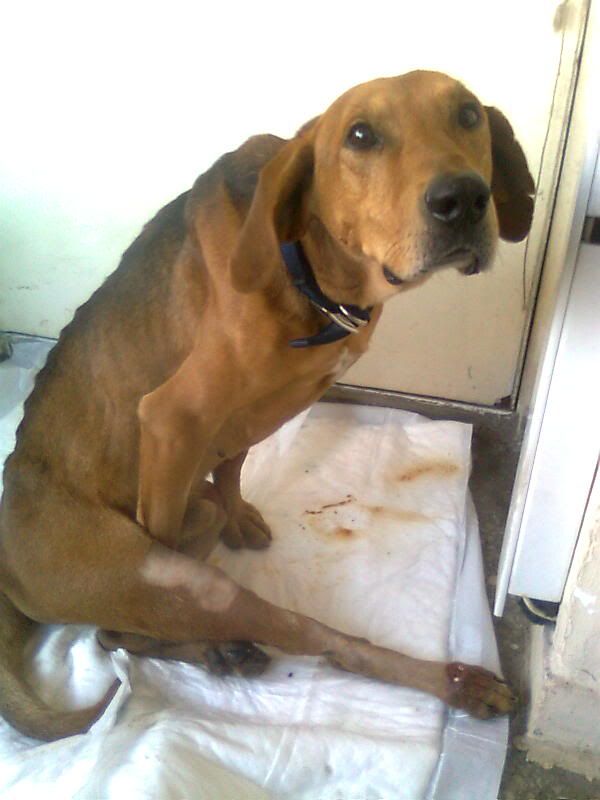 (18.01.2011)
A few weeks ago, a young boy called Michael Angelos, who loves animals, informed us about a dog he saw, when he and his family were driving to visit his grandfather at a village somewhere close to Thessaloniki. It appeared that the dog was crawling on the street, with some problem at his legs. Michael Angelos asked for our help, telling us that he was willing to give us his pocket-money in order to assist the dog!!!
The will of this child gave us courage and hope for a better future. So, despite the difficulties, George and Voula, two supportive volunteers, started their effort to find the injured animal.
They drove 8 miles outside Thessaloniki, but it proved to be really difficult to find the dog. No one had heard about the incident. Everyone ignored a crawling dog, a dog with such a serious problem. This is our sensitivity. This is our "civilized" attitude towards a seriously injured animal which really needed help.
However, after searching and asking for a long time, they were finally able to locate the dog. They caught him and transferred him immediately to the vet. The diagnosis was disappointing: the dog had a serious damage at his spinal cord, caused, possibly, by shootings.
We were terrified by the news, but we continued to look for ways to save him. We gave him the name "Angelos", just like the child who first saw him. Some days later, we visited a very skilled vet, Mrs Polyzopoulou, who said that there is a possibility of improvement.
Angelos, scared, wondering why someone could do this to him, looks us in the eyes, and we understand he wants another chance! We decided to give him that chance.
Voula, who holds him for now in her apartment, does her best to take care of him. But he really needs the help of all of us. He needs to find a home with a backyard, and a cart which will help him with his weak legs.
(25.01.2011)
Angelos did his first physiotherapy.
His physiotherapist Stella is hoping for an improvement.
Many thanks from our heart to all of you who support us and help Angelos.
Of course, we are still looking for a home with a yard so that Angelos can use his cart.